Heidelberg - July 31st




Looking at the map for the youth hostel.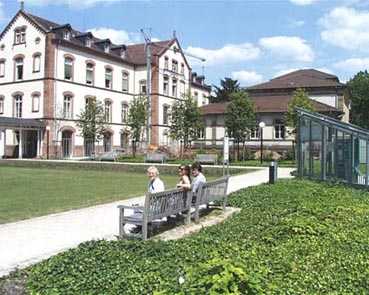 Psychiatric university buildings including Carl Schneider's lecture room on the right.
We stay two nights in Heidelberg, the youth hostel is next to the zoo where loud bird calls can be heard from different vantage points.


Saturday morning four of us go to the famous castle in Heidelberg and a ride up the cable car. I did not find the castle remarkable (I do not generally like museums) but the cable car was fun. In the afternoon Elin and I take a lovely boat ride for three hours. The German country side is beautiful.
I eat one of the few German meals thus far, German potato salad, and a hot sausage, and a German beer. It was not very good. You learn quickly that beer is the same as water here.


Later in the day I find an outsider art gallery which contains art works of primitive artists, I am sure some of the works were by our "crazy folks", but I could not read the writing and the owner of the museum wasn't there. I go to an English movie, "The Other Side of Sex" and come home on the 33 bus which takes a while to figure out where it leaves from.